Married in Charleston, South Carolina, at the Gibbes Museum of Art, Grace and Spencer met through friends…kind of. Explains Grace, "We met on Bumble but always told most people we met through friends (not a lie, we're both born and raised in Charleston, SC and know a ton of the same people). Sassy (my dad) spoiled that during his rehearsal dinner speech, god love him."
The sense of humor Grace and Spencer share doesn't just make for a good time and funny stories (wait until you read about how they got engaged!). It's also what helped them get though re-planning a wedding thanks to the pandemic. Well, that and a little help from their friends, who happened to be exceptional event planners!
There's more about their day from Grace below, including how she found her Coco gown, but first, take in some of her on-point wedding planning advice: "Definitely find someone you trust who knows what they're doing and can really understand how to make everything better than you could have imagined without spending a wild amount. Also, it really is true that most brides don't remember the day. Just try to take in every moment and don't waste time saying hi to everyone."
Weddings do go by in a blur, and so many of our brides tell us if they had to do something differently, it would be less table hopping and more reveling in the moment. Also, 100% yes to finding vendors you trust!
From Grace:
How did you know Spencer was "the one"?
"To be honest, when he saw me at my craziest and stuck around!"
How did you guys get engaged?
"We've been together for 4 years and met through friends (aka Bumble)! We're both born and raised here and now we have a house on Johns Island!
He proposed in Central Park (NY is our favorite place to go and pre-pandemic we made sure to go at least twice a year). We were leaving The Met and walking through Central Park to get to our lunch reservation at Tavern on the Green when I decided I just had to get a video of the fall leaves with Central Park ducks (because apparently, I thought they were different from Charleston ducks lol). Spencer is a runner and said, "Okay well I ran past here on my route this morning so there's a little clearing near a bridge over here but hurry because we're running late."
We get to the clearing and I get a stunning panoramic video of the ducks and the leaves and the bridge and when I turned around Spencer was down on one knee and asked if I would marry him.
When I tell you I had NO FREAKING IDEA. He jokes about how long I just stared at him and didn't say anything because I was in such shock. Then I ugly cried."
How did you choose your gown?
"I really thought I had my exact dress in mind. I wanted lace and form-fitting. I had also chosen some backup options once I went through all of Maddison Row South's online gallery. Nothing I tried on really wowed me until I tried on one of my backup dresses. I cried when I stepped out in it but knew it wasn't the perfect one, only the perfect style. Then I tried on the Coco gown by Lea-Ann Belter and the waterworks REALLY started flowing! That was it. I bought it that day."
Tell us about your day!
"Well, this is kind of a doozy! We got engaged 11/22/2019 and obviously weren't trying to get married right away. Spencer and I decided on a mid-April wedding.
In mid-February of 2020, we agreed on a venue, toured it, viewed available dates, and booked the Gibbes Museum of Art in Charleston, SC for April 17, 2021.
Obviously, then the country shut down about a month later due to a global pandemic.
Two of our best friends (one has planned events for years, the other has worked for Snyder Events for years) offered to plan our wedding for us. So, we said let's do it. Honestly, I probably scarred them for life, though. I'm naturally a very anxious person and I eventually had to give everyone a safe word. If I said or texted it, I was done with wedding planning for the day (it was pickle!). So, Liza Holian and Ryan Arias, Spen and I wanted (okay, I suggested it but he agreed) on a color scheme of black, white, gold and greenery. Let's be real—we got married in a museum…you don't need a lot of pop.
The bridesmaids wore long black dresses (whatever style they wanted) and the groomsmen wore tuxedos.
The hardest part of our planning process during Covid was honestly our original and intended wedding date (4/17/21). Based on the museum's guidelines, we cut our guest list by a lot (which although hard, we never wanted a huge wedding to begin with). The thing we struggled with most was the uncertainty. Everything was a guessing game because our date was "so far out" that it was hard to try to predict that far in the future—how would Covid look? Would there be a vaccine at that point? We've cut the guest list so let's adjust everything down to the number of forks, etc.
Finally, it got to the point that we decided this wedding was going to happen with every necessary precaution to Covid. We basically threw our hands up 3 months into planning and said, "This is how it's going to be."
When the day finally came, I was probably the only person there not vaccinated (I am now lol) and it was just the best day that I don't really remember! We were so lucky that 2 of our best friends planned the wedding. They just listened and went with it and made everything better than we could have imagined!"
What was your first dance song?
""Into the Mystic" by Van Morrison."
One detail you couldn't live without?
"Flowers. They're expensive but worth it."
What was the funniest moment of your day?
"Probably the 5th time I broke the back of my dress and everyone kept pretending to fix it."
What was your something old, something new, something borrowed, and something blue?
"Old/new: my mom, Lisa, gave me her diamond stud earrings that I have always loved. They were a gift to her back in the day from my dad, Sassy (they've been divorced for like 27 years and she's now remarried).
Blue: My shoes! Not a huge brand, just super comfortable and a nice light blue. Borrowed: A simple diamond necklace from Lisa."
Where did you go on your honeymoon?
"We were supposed to go the Amalfi Coast but, ya know, Covid. Instead, we were lucky enough to use a family friend's villa on Kiawah Island for a week and it was more than generous and a much-needed time out and it was perfect."
Any advice for future brides/grooms?
"Elope.
Just kidding lol.
Brides: Definitely find someone you trust who knows what they're doing and can really understand how to make everything better than you could have imagined without spending a wild amount.
Also, it really is true that most brides don't remember the day. Just try to take in every moment and don't waste time saying hi to everyone.
Grooms: Be outspoken about your ideas or suggestions during planning! Also, keep in mind that this is your day, too."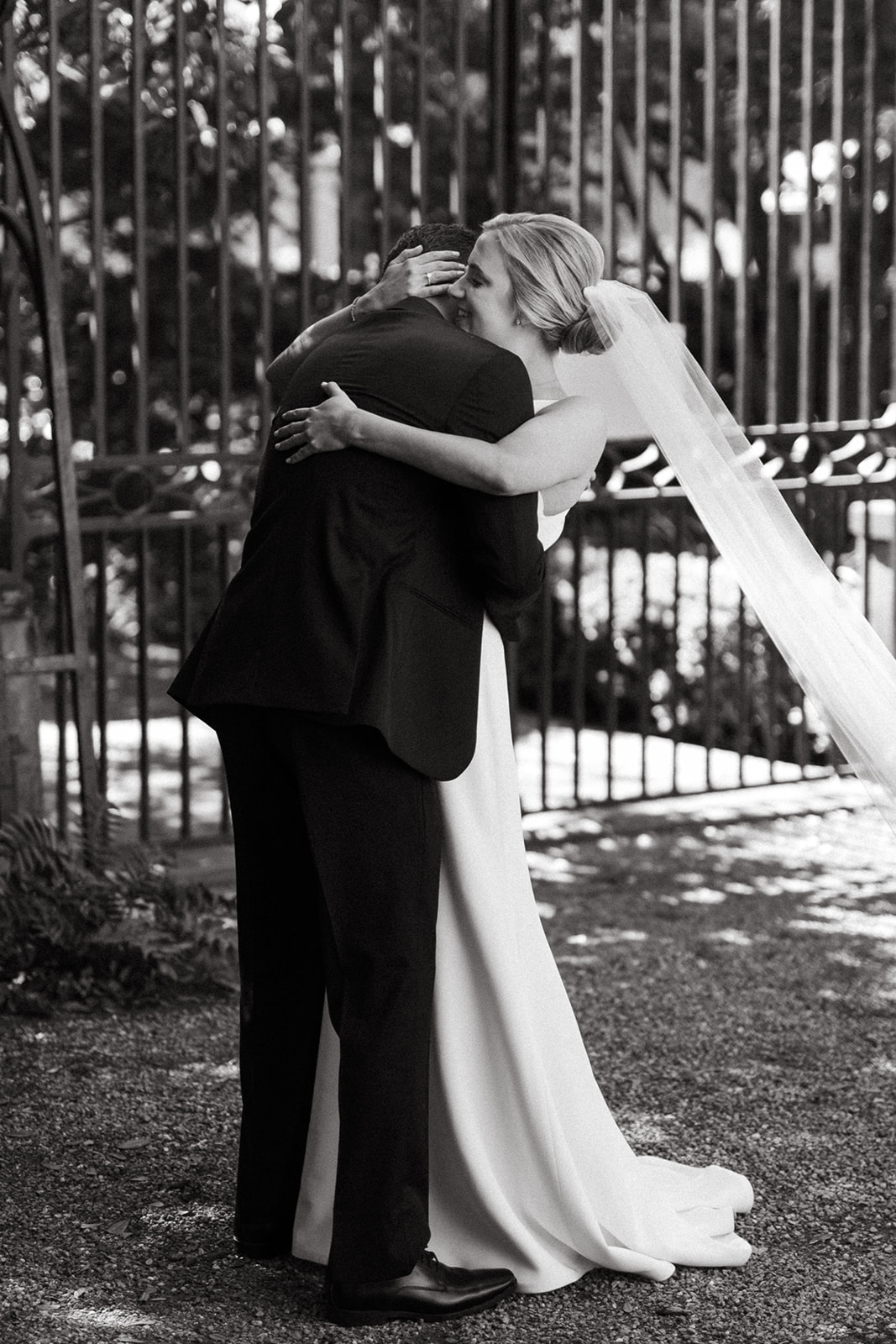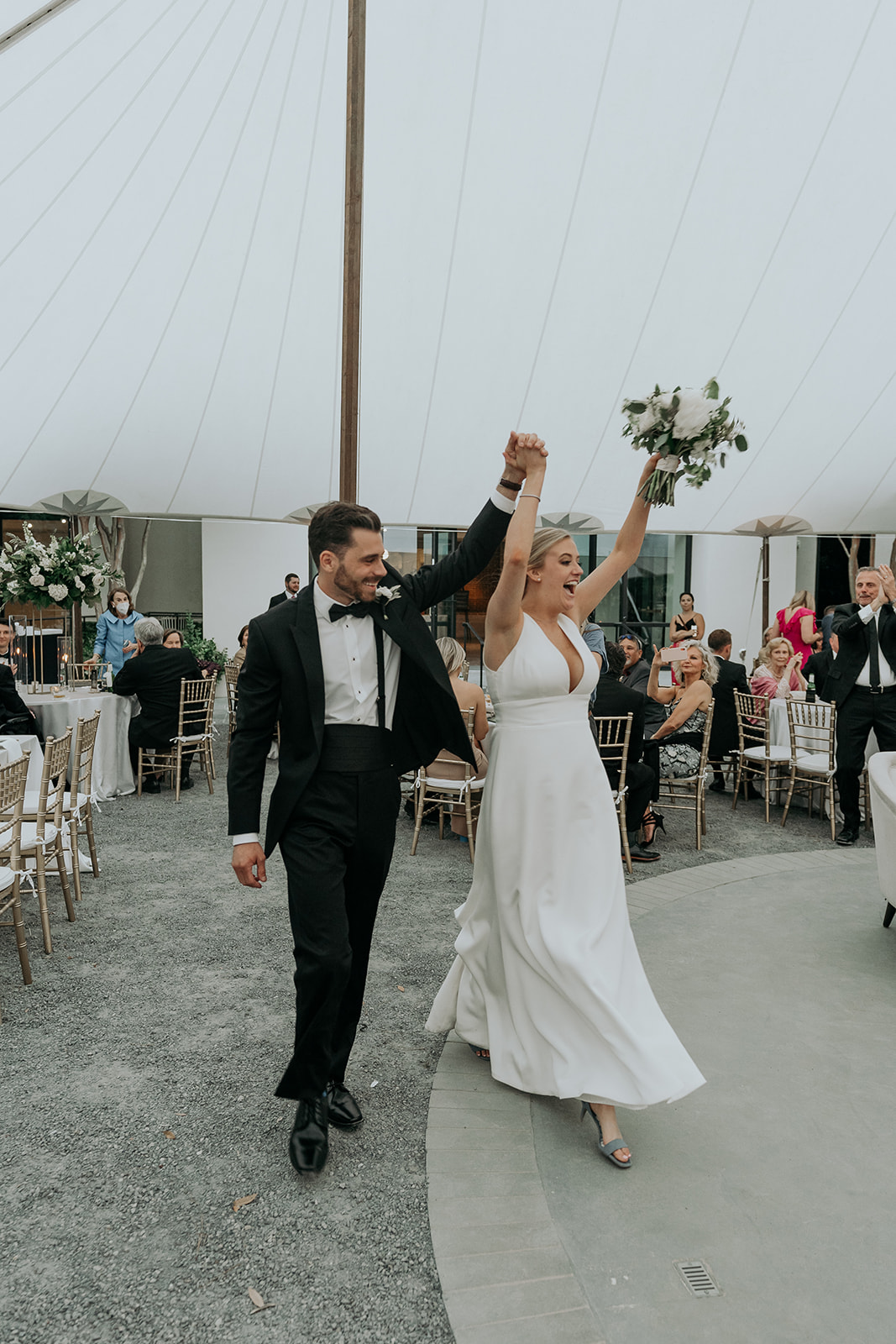 Grace + Spencer's Gibbes Museum of Art Wedding Vendors
Chic Wedding at Gibbes Museum of Art | Grace + Spencer
June 14, 2021 | Category: Lea-Ann Belter Brides | Tags: Coco, pandemic, southern wedding