Visiting her grandparents' home in York, Maine is a big part of Caitlin's life. Her Grandma Dickson's holiday cookies are much looked forward to, and she taught Caitlin to bake as a kid (they made cookies together instead of a cake for the wedding!). Whenever she visited, Caitlin was drawn to the Reading Room, which overlooks the water. She loved it so much that since she was a girl of seven, she's said it was where she was going to get married someday!
Fast forward to 2012 Boston, when she and John first laid eyes on one another. They hit it off right away, but it wasn't until two years later that they finally went on a date. One thing led to another, and before she knew it, Caitlin realized John was her perfect match. "Being with John was just so effortless—he's the sweetest person and cares so deeply for the ones he loves. I think the exact moment I realized was while running errands on a Saturday—I remember thinking that even such a mundane task was so much better done together, and that was what I wanted for the rest of my life."
Of course, they married in York and, following a classic ceremony at the First Parish Church, headed to the Reading Room for a celebration that was totally them. A lifelong collector of ginger jars, Caitlin used them as centerpieces and then carried their colors throughout their reception, from the bridal party ensembles through the trolley that carried them all from the church to reception.
Caitlin's classic, elegant bridal style was inspired by Carolyn Bessette-Kennedy, and when she was introduced to Fiona at Something Bleu, she was in love…plus when she slipped it on, the sample fit like a glove!
From Caitlin, who floated on the dancefloor with John to "Into the Mystic" by Van Morrison, and escaped to Anguilla, St. Barts, and St. Martin for a sun-soaked honeymoon:
How did you guys meet?
"We met in June 2012 in a dive bar in Boston, where John lived and I was at school. We quickly realized I already knew John's cousins from growing up in Albany (the family resemblance is uncanny!) and hit it off right away. John asked me out during that first meeting but I was about to head to York, Maine to spend the summer and never took him up on that date—little did we know we'd get married there someday!
We happened to run into each other at another bar in Boston two years later and after a little liquid courage, I went up to him and said, "If you still have my number, I'll go on that date with you.""
How did John propose?
"John's parents have a house on Cape Cod and one of our favorite things to do is go out on their boat—John and his dad and brother like to fish and I just soak in the sunshine. Right before Labor Day 2018, John took me out alone on a sunset cruise and anchored near a small barrier island, where he popped the question with the most gorgeous ring!"
How did you choose your gown?
"I had a very clear vision of what I was looking for in a gown—something very clean and elegant. I had Carolyn Bessette-Kennedy's dress in my mind as inspiration. My mom and I went to my first bridal appointment at Something Bleu Bridal in Saratoga and as I was looking through all their gorgeous options, one in particular hanging by itself caught my eye. When I told Denise, the owner of the shop, that I was interested in that dress, she told me she wasn't sure that one would work for me—that dress (the Lea-Ann Belter 'Fiona' gown) had been used in an Audrey-Hepburn-themed photoshoot for Saratoga Magazine and the bottom of the dress had gotten so dirty during the shoot that it had needed to be hemmed. At 5'9", the dress would likely be too short with the hem, but I was already planning on wearing flats so I gave it a try, and it was absolutely perfect. Literally did not need a single alteration, like it was meant to be!!"
Tell us about your day!
"We were married at the First Parish Church in York, Maine, and then held our reception at the York Harbor Reading Room. We had the most gorgeous fall weather. My grandparents have a house in York, so I spent a lot of time there growing up. Since I was a little girl, I've had my heart set on having my wedding at the Reading Room, which is in a lovely building overlooking the water. My parents recall me telling them that was where my wedding would be someday when I was 7 years old! When John and I started going to Maine together, I would always make sure our route took us past the Reading Room so I could point out what a lovely spot it was.
I loved our church for how quintessential New England it was, and the Reading Room had the same classic feel. I collect ginger jars and love that aesthetic, so I carried the blue and white theme throughout our wedding, from the bridal party outfits to using ginger jars as centerpieces at each table. We even had a blue and white trolley transport us from the church to the reception! To tie back to the seaside location, we added some nautical rope details throughout.
Our good friend, Colleen Dunleavy of Dunlovely Floral Design, did the florals for the day—she focused on very natural arrangements with a lot of greens and white and blue flowers. The Reading Room's great hall has this lovely big old fireplace, and I knew I wanted to showcase that in some way. Colleen fashioned an amazing greenery arch that exceeded every vision I could've had, and that space turned into an impromptu photo booth all night!
We chose a band that specialized in fun classic rock dance songs—this is John's and my favorite kind of music, and it ensured the dance floor was full all night with guests of all ages! My grandfather (at 84) had broken his hip in May and his goal for recovery was to dance with me during my wedding. One really special moment during the reception was dancing with Pop to "Georgia on My Mind" —which was a song I used to play for him on the piano.
Overall, we knew we wanted to have a relaxed wedding and just focus on having a great time with those we love most. We thought of the reception as a really fun dinner party!"
One detail you couldn't live without?
"My grandma's cookies!! Grandma Dickson taught me to bake as a kid and has been making cookies for each holiday ever since—in school all my friends looked forward to when I would bring in a batch! In lieu of a cake, my grandma baked lobster-shaped sugar cookies for our dessert table, and she and I spent the days leading up to the wedding decorating them. It was great to spend that time with her, and such a special (and delicious!!) detail to incorporate into our big day!"
Describe your wedding day in 5 words or fewer:
"Truly a dream come true!"
What was the funniest moment of your day?
"An impromptu late-night dance off"
What was your something old, something new, something borrowed and something blue?
"I don't know if I checked all these boxes, but my 'something blue' was my shoes – blue Manolo Blahnik flats I found on eBay!"
Three words that best describe your partner (you or both of you can answer!):
"John: Caring, generous, dedicated.
Caitlin: thoughtful, graceful, beautiful."
Any advice for future brides/grooms?
"Stay relaxed, take a moment to step back and take it all in—it goes by so fast! Don't worry too much about everyone's opinions—it's YOUR day and can be exactly as you want it! Also try to enjoy the entire process and have fun!"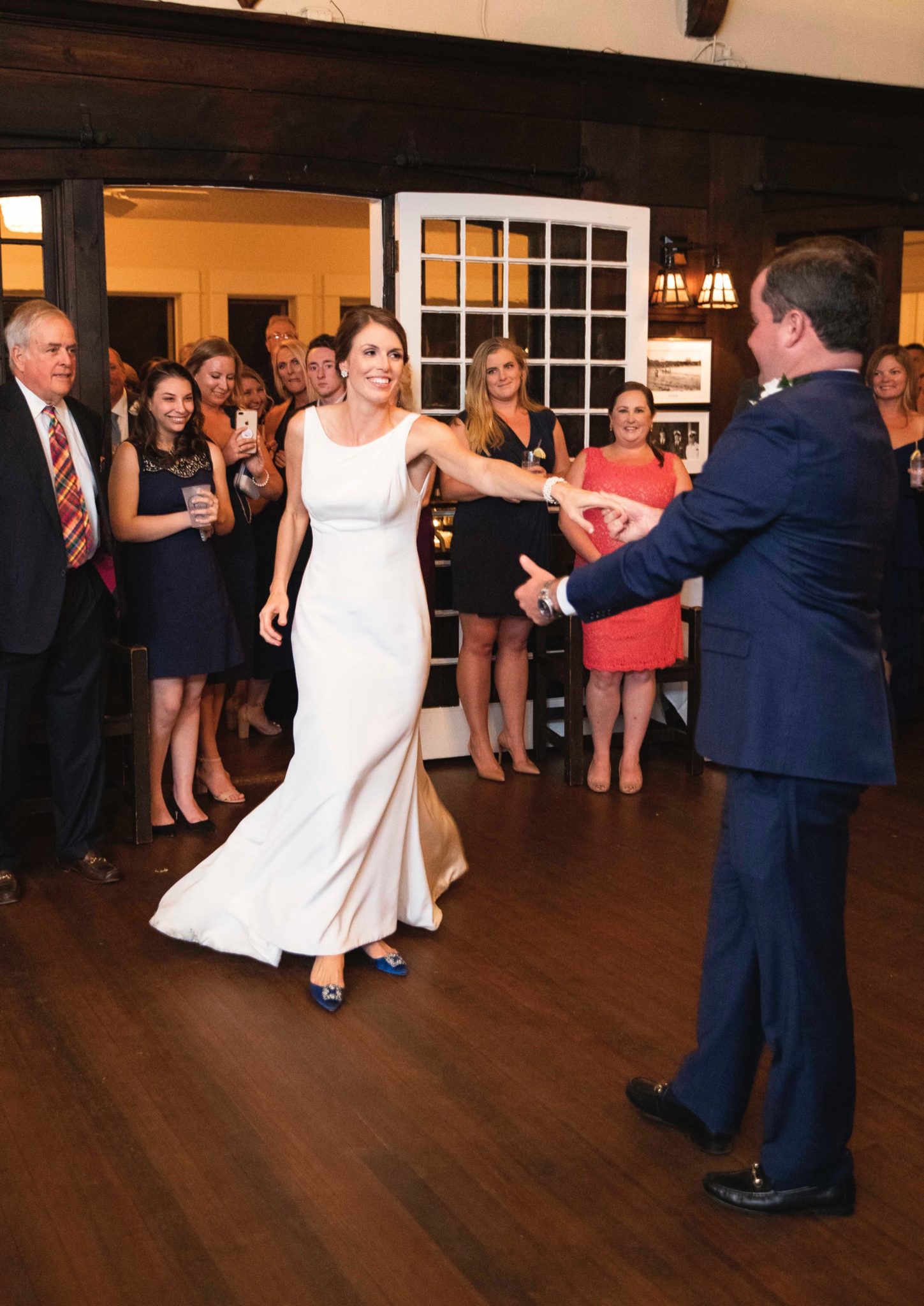 Wedding at the York Harbor Reading Room | Caitlin + John
December 30, 2019 | Category: Lea-Ann Belter Brides | Tags: classic, fall, Fiona